We had the pleasure of asking a few questions of Mr Michael Bailey, our Head of Department – Science,  to learn about his journey to becoming a high school science teacher and his passion for the future of the Department.
Let's dive in!
What is your role at JSR, and what inspired you to become a Science Teacher?
I am the Head of Science and teach Science classes from Years 7 to 12 with a specialty and particular passion for Biology. Funnily enough, I became a Science teacher by accident! Well, sort of,
I was unsure of what I wanted to do after four years studying at UWA completing a double major in Biochemistry and Molecular medicine, I had some time up my sleeve. The grand plan was to go to medical school and train to become a doctor, but between applying, sitting the exams and then later realising that I wasn't a big fan of hospital life, I put in to train as a teacher as a part of the graduate diploma in education programme at ECU. After a spectacular prac placement at JSR with my wonderful mentor teacher, Miss Howting, I fell in love with the job and never looked back!
What do you enjoy most about teaching in your area of expertise?
The things I enjoy most about teaching Science are getting students excited about what they are learning and seeing the realisation on their faces when things start to click.
To me, Science is magic with a really good explanation – it should 'wow' you twice, once when you first see it and then again when you first understand it. This feeling was particularly evident during the Primary School Science Spectacular this year (which is now going to be my absolute favourite day of the year every year), seeing the faces of so many young scientists light up with excitement was a highlight to say the least. However, what was even more satisfying was getting to the end of the show and not having enough time to answer all the questions, simply due to the sheer number of excellent ideas and inquiries being brought up. I hope this level of enthusiasm and wonder will carry forward, and I can't wait for these young Einstein's to reach the Secondary Science labs.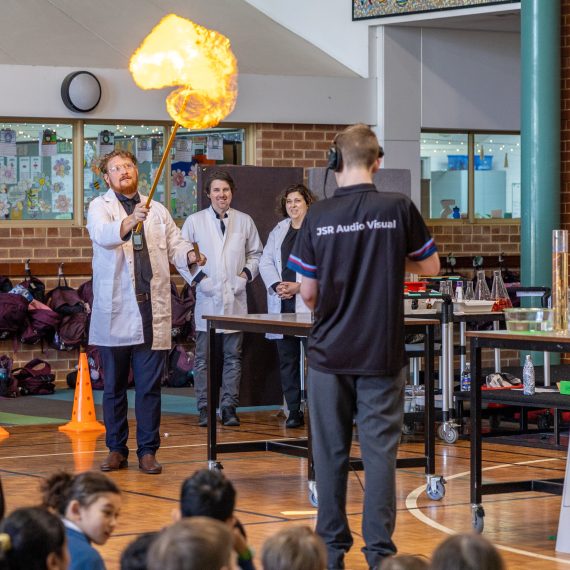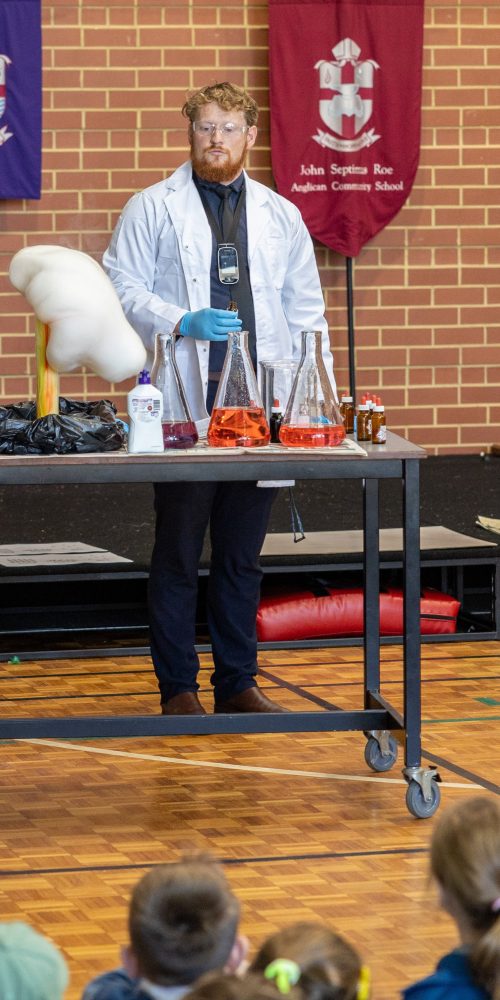 Science week 2023 the theme was Innovation: Powering Future Industries, what does this mean to you?
This year the theme for Science week was Innovation: Powering Future Industries, which was such an exciting and interesting concept to work around. For me, it was an opportunity to showcase some of the amazing innovations that have already occurred but also to give others the opportunities to innovate and be creative themselves. One of the highlights for me was opening the Bottle Upcycling challenge to staff this year and it was great to see some engagement from all over the campus. From chess sets to bird feeders and piggy banks to brooms, it was awesome to see sustainable innovation and people thinking outside the box.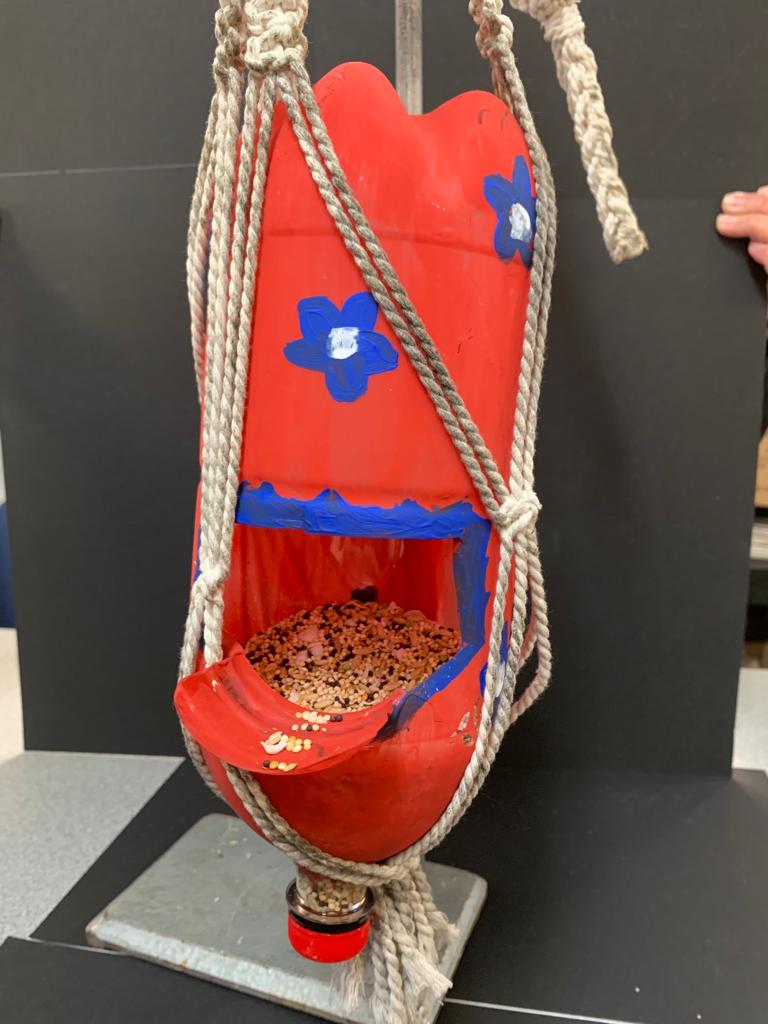 With the field of Science moving so rapidly, what are you looking forward to introducing / implementing into your classrooms and the Science Department?
The Science Week theme of Innovation: Powering Future Industries is a launching pad for the future of the JSR Science Department. It will continue to spill over into the rest of the year and beyond, as technology continues to improve and develop so quickly. I look forward to the not-so-distant future when we have VR headsets in every classroom and we can spend our lessons investigating real ecosystems, looking over the edges of real volcanoes and jumping between exploring the bottom of the oceans and navigating distant galaxies.  There has never been a better time to be a Science student (or teacher!).
Star Wars or Star Trek and Marvel or DC?
Definitely Star Wars, but admittedly I am not a super fan like some members of the department! Not mentioning any names, but apparently, someone has a full Wookie costume in their closet!  And DC for me, but mostly just for Batman!
Thank you so much for sharing your story with us, Michael!